Our Crude Oil mini session, which I presented some time ago, is a model for how one can think about their own trading.  There are plenty of other markets and charts that can be traded with the same approach.  Unleaded Gas futures come to mind.  But there are many more.
But while Crude Oil is on my mind, I wanted to call to your attention to our 11 am mini session.  It has been performing great since the start of 2020.
So far, our 11 am Crude Oil mini session have been winning 76% of its trades and sessions.  Moreover, it has posted a perfect weekly result; winning 100% of its weeks to start 2020.
Granted, we have only just begun this new year and decade, but it's certainly off to a good start.
Today, our 11 am Crude Oil 11 mini session was one and done to finish the month, hitting its Target 1 for straight forward winner.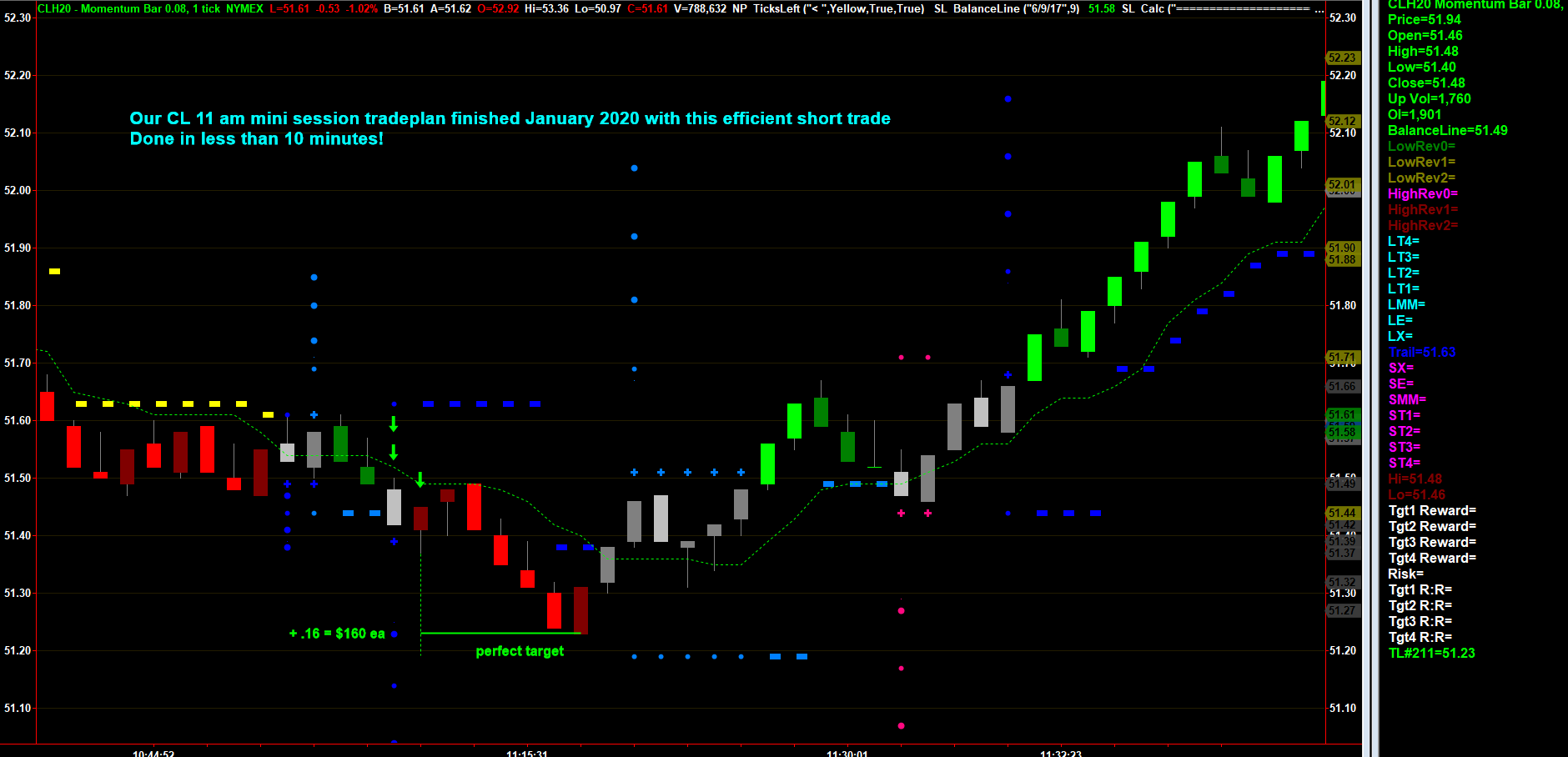 There are more than one way to approach this idea.  The easiest and quickest way to hitting your goals, if trading with a single contract, is to just trade to the first target.  As you can see, today it was hit perfectly within 10 minutes.
Another approach and probably more profitable, would be to insist on a Target 2 winner.  As you can see above, it would have taken 3 trades today to hit that more robust goal.  You would have been richly rewarded for it.
I like to be finished quickly, so T1 is my main target with this plan.  It has produced amazingly well, as I said:
+ 3.19 for $3,190 per contract
Profit Factor of 2.55, which is fantastic
Average net profit per trade of $66.90 per contract (net of all wins and losses).  This is a GREAT number!
Done quickly, which is the whole point of the mini session.  AND, the whole point of the Backpack Trader philosophy.  That's how we win our freedom and why we trade in the first place.
Ironically, our 10 am mini session, one of my favorites (I love the 11 am session too) has been under performing so far this year.  That is normal in the ebb and flow of random distribution of wins and losses.  I expect it to get back on track and post a wicked winning streak before too long.
Don't forget to subscribe to our YouTube Channel, https://www.youtube.com/c/BackpackTrader
Also, join https://facebook.com/thebackpacktrader
Send all your questions to [email protected]