Trading ten minutes a day is our preferred way to trade and we can accomplish that with the CPX2.0.  For those of you who either can't or do not want to daytrade, you can swing trade with a very small time commitment.
I always recommend swing trading with forex or options.  CPX2.0 can do both.  The setups are straight forward and once you learn what makes the strategy tick, you can use it on many different charts and symbols.
Most importantly to us though is living the life of the Backpack Trader.  That certainly doesn't mean schlepping across the world with your pack on your back.  That wouldn't be advisable these days but more importantly, that's not what the Backpack Trader is all about.
It's about establishing the highest level of freedom for yourself.
Check out these current trades.  The first is a trade that presented itself earlier this month.  It is slow in developing and one can still get in on the entry.  Trading ten minutes a day doesn't even begin to explain this trade.  This trade will end up requiring ten minutes total, from start to finish. That's my best guest, anyway.
Each day we just need to look at it for a few seconds.  Maybe we have to move a stop.  Maybe not. The entire trade is planned and placed, including each target where we intend to exit a percentage of our position.  It's all set up in advance with our FXSynergy trade manager interface that plugs into MT4.
Here's the trade:
Long the AUDJPY at 76.88 (Note that I adjusted this entry slightly above the printed entry to work around an obvious chart level)
Exit 25% of your position at each of the 3 targets.  Trail the final 25% with a trailer, in the hopes we pick up a big trending move.
Target 1 (T1): 77.99
T2: 78.78
T3: 79.57
If the price gets 90% to T1, 77.83, move the stop to Break Even and enjoy a risk free trade.
If you can commit to trading ten minutes a day on average, you can follow a dozen charts like this with the CPX2.0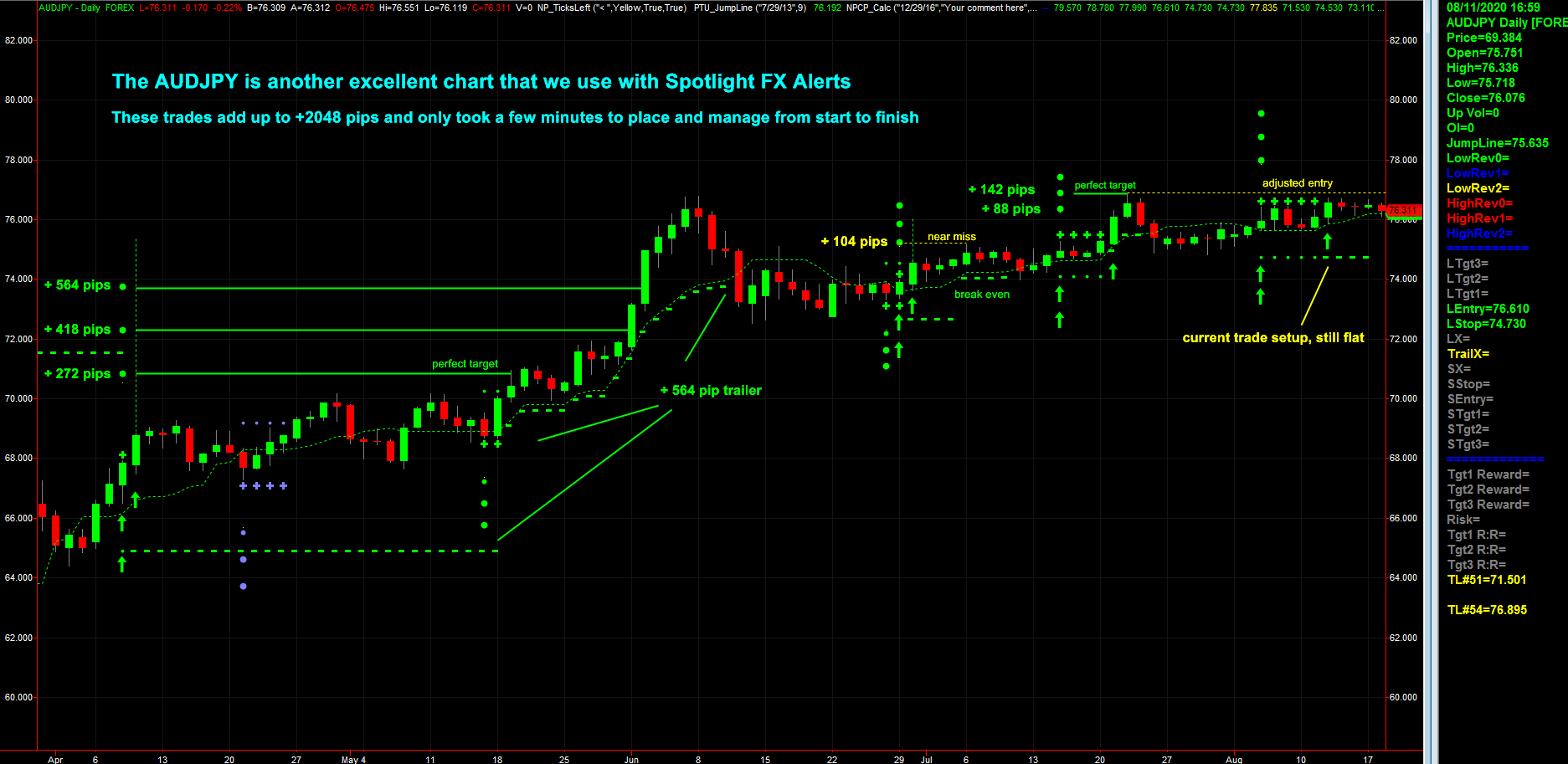 These trades are so easy and over time can grow into large positions with the Power of Compounding.  Two major benefits that can not be underestimated:
You can dedicate yourself to trading ten minutes per day, anytime of day you want.  For many it will be after getting home from work.
You remove yourself from the trade.  Set it and go live your life.  Check it once in the morning, one in the evening, or whenever you've established your 10 minute window.
The CPX2.0 is one of the best secrets out there.  It can also be used for swing trading stocks/options and for daytrading futures and forex.  It is super versatile.
In my next post, I hope to do a video with my daughter, where she will show you how we use FX Synergy to manage our trades, just like the one shown above.  Now, all I have to do is convince her to do the video for me!
Don't forget to check out our YouTube channel here to learn much more about our style of trading.  We'd love to see you on our Facebook page as well.