The worst trade of my life happened when I was just starting out.  Like so many others, I was rather clueless as to what I was doing.  I knew the desired outcome of course, and the obvious truisms like buy low and sell high, bank the profits, type of thing.  And on the surface, that sounds like sound fundamental advice, right?  No one ever went broke taking a profit!  Or did they?
This was Worst Trade of My Life
Buy 100 shares of CSCO for $20.00  a share
Sell 100 shares of CSCO for $30,00 to close out and bank $1000, 50% gain
On the surface, this would seem like a great trade but I consider it the worst trade of my life.  Anyone that could fog a mirror in those days (early 1990's) knew that Cisco Systems, CSCO, was a great stock to buy.  I had been watching it for a while and when I saw it drop down to $20 per share, I invested a couple grand and picked up 100 shares.  At the time that was a lot of money for me.  I had just started a new business and every penny I had was going directly back into my new company.
All trading takes place at the right edge of the chart.  We take our best guess, whether it be calculated or based on a whim, but regardless, we have no control over what happens next.  If it drops and we experience some drawdown, we can't just hit a replay button and tell the broker we've changed our mind!
We have to live with the results.  It's always easy to look back at what happened and be 100% correct, being the geniuses that we are when looking back.
[fusion_button link="https://www.netpickstrading.com/FreeSPTWebinar" text_transform="none" title="" target="_self" link_attributes="" alignment="center" modal="" hide_on_mobile="small-visibility,medium-visibility,large-visibility" class="" id="" color="custom" button_gradient_top_color="#0f991f" button_gradient_bottom_color="#0f991f" button_gradient_top_color_hover="#0f991f" button_gradient_bottom_color_hover="#0f991f" accent_color="" accent_hover_color="" type="" bevel_color="" border_width="" size="large" stretch="default" shape="round" icon="fa-arrow-right fas" icon_position="left" icon_divider="no" animation_type="" animation_direction="left" animation_speed="0.3″ animation_offset=""]NEW Training: How to Create a Consistent Income by Trading[/fusion_button]
<br>
No one ever went broke taking a profit
It's important to take cliche's like that with a grain of salt.  Who could have blamed me though when CSCO ran up to $30 per share and I sold for a nifty 50%, $1000 profit?  By any stretch of the imagination, that should be considered a good trade.
Being the genius that I am though, when looking back at my 'shoulda, woulda, coulda's,' to this day I still refer to it as the worst trade I ever made.  Worse than when I had racked up $12,000 in crude oil daytrade profits over three weeks, only to lose it all in one day, to name just one early horror story I experienced as a 'know nothing' trader!
By the way, I've learned a few things about trading Crude Oil since then.  Check out my weekly live crude oil inventory report session.  I post lots of videos on YouTube of these live sessions.  It is very reliable and hardly ever loses.  Here's a sample you can check out.
How could making a 50% gain for $1000 be worse than losing $12000 of several weeks of hard work?  (I consider my trading profits the fruits of hard work, to this day.)
Simple!  The same 100 shares, had I hung onto them for a few more years, would have grown to being worth well over $300,000!  The thought of it still makes me somewhat nauseous to this day!  I didn't make $1000.  I LOST $300,000!  True, I am perhaps giving too much credit to my hindsight genius.  One could argue that, for sure.
Like so many other stocks during the historic dot.com boom, this run up in Cisco Systems (CSCO), smoothing out all the stock splits that took place, was truly historic and life changing for anyone who hung on for the ride.  The fact I did not, made it the worst trade of my life.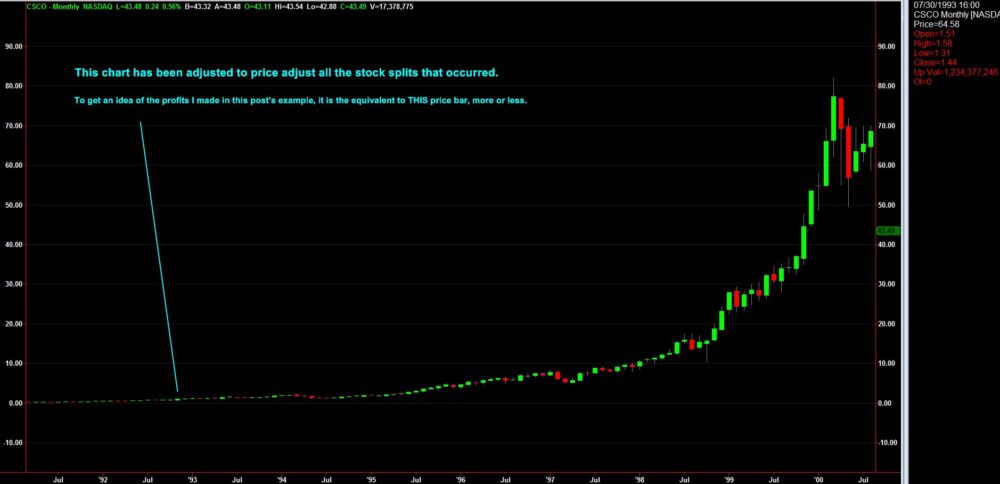 I prefer though to be harder on myself, so as to never forget a critical life lesson — the value of knowledge and training!  I didn't even know what a stock split was in those days.  The power of compounding was a concept I thought I understood but I didn't.  No really.  Had I known then what I know today, I would have made better trade decisions.  Over time, that translates to a lot of lost profits.
Most people undervalue their own training when it comes to trading.  That's a HUGE mistake!  Learning to make money as a trader is a skill that can be learned.  It does require putting one's ego aside, accepting some humility and opening the mind and heart to discovering new things.  That is the best investment one could make because it is an investment in one's self.
The Power of Compounding is one of twelve keys to successful trading.  I just created an on-line Flip Book all about the 12 Powers to Successful Trading.  Check back soon and you'll find it on this blog.
[fusion_button link="https://www.netpickstrading.com/FreeSPTWebinar" text_transform="none" title="" target="_self" link_attributes="" alignment="center" modal="" hide_on_mobile="small-visibility,medium-visibility,large-visibility" class="" id="" color="custom" button_gradient_top_color="#0f991f" button_gradient_bottom_color="#0f991f" button_gradient_top_color_hover="#0f991f" button_gradient_bottom_color_hover="#0f991f" accent_color="" accent_hover_color="" type="" bevel_color="" border_width="" size="large" stretch="default" shape="round" icon="fa-arrow-right fas" icon_position="left" icon_divider="no" animation_type="" animation_direction="left" animation_speed="0.3″ animation_offset=""]NEW Training: How to Create a Consistent Income by Trading[/fusion_button]